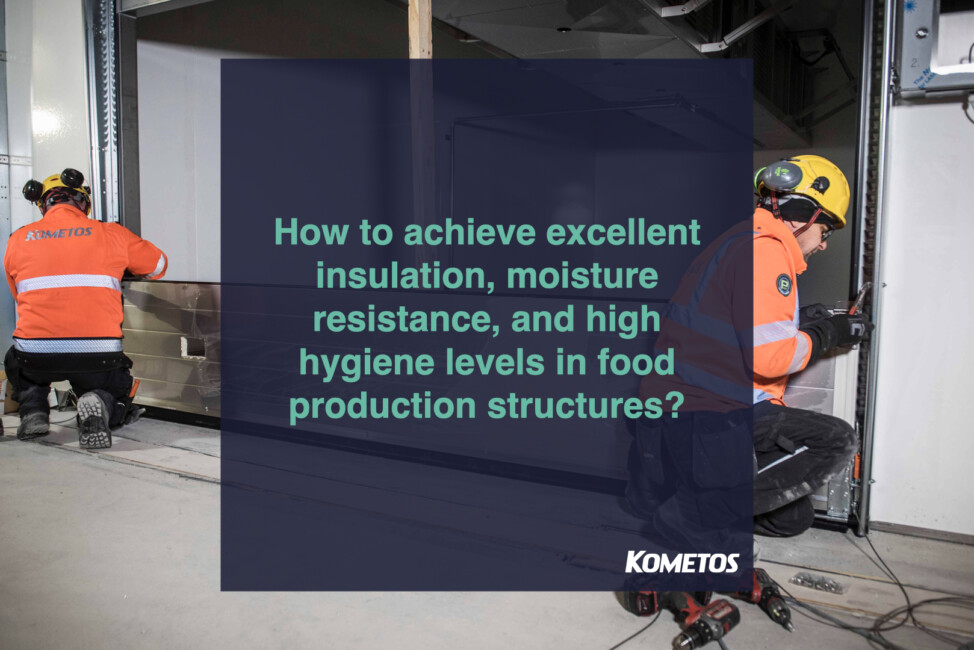 Food production requires a lot from production facility structures – Kometos modules are designed to last 
The production modules of Kometos are the result of long product development. The durability and thermal insulation capacity of the elements together with the HPAC and cooling technology and software optimization guarantee low operational costs during the lifecycle of the investment. How have these benefits been achieved?
🥪 Kometos Sandwich element's benefits at a glance
– Energy-efficient solutions
– Light, durable, and self-supporting structure
– Food industry level hygiene
– 20-year guarantee
Excellent insulation properties meet moisture resistance
It all begins with a structure that has excellent thermal insulation properties, will not absorb water, and is approved for use in the food industry. The problem was that structures with good thermal insulation properties didn't have adequate moisture resistance to achieve the hygiene level required in the food industry.
A solution was finally found in the marine, train, and space industries. In addition to meeting all the requirements listed above, the ST Sandwich structure used in these fields had the advantage of being light, durable, and structurally self-supporting.
The self-supporting structure eliminates the need for separate frameworks. All interior spaces can be fully utilized for production operations. The glued joints help achieve a fully sealed, moisture-proof structure. No mechanical fasteners are used in the module structures.
Hot or cold? Kometos structures work in demanding conditions
The thermal performance of the Kometos ST Sandwich (k = 0.27, 100 mm) can be compared to the requirements set for the outer wall structures of one-family houses. This gives a good picture of the technical quality of the structure.
A good thermal insulation capacity enables the expansion of production facilities using an external modular solution which fully corresponds to the interior of a building.
The energy-efficient expansion method allows for the facilities to be expanded and modified while maintaining high levels of hygiene and interrupted operations in the existing facilities.
The modular structures will withstand temperature variation of 100° (+50°C…-50°C). This means that modules can be used for many purposes, from cold storage of carcasses to thawing. Conditions outside the production facility can vary from the coldest winter frosts to summer heat.
The many lives of a module
The ST Sandwich structure has good shock resistance.
The modular lines are designed for heavy use and transportation. The modules used for reindeer slaughtering, with decades of service life behind them, are an excellent example of the heavy usage of transportable modules.
In addition to the mobility, the easy expandability of the modules offers even more flexibility in the various phases of the business operations. The self-supporting sandwich structure can be freely altered. Various changes, such as changing the location of doors or expanding the facilities, can be completed during a weekend or holiday without endangering hygiene standards.
💡 Want to learn more about the energy-efficient and durable Kometos products? Click here.