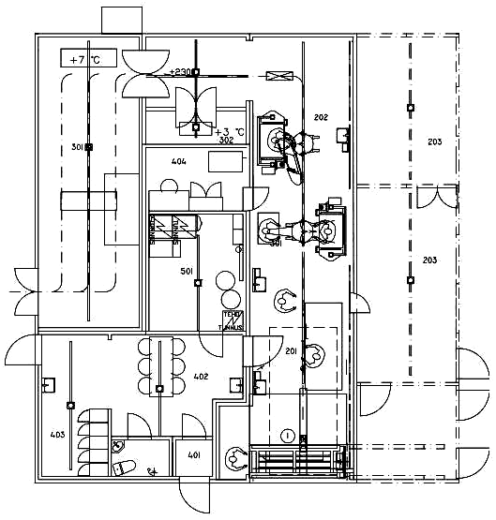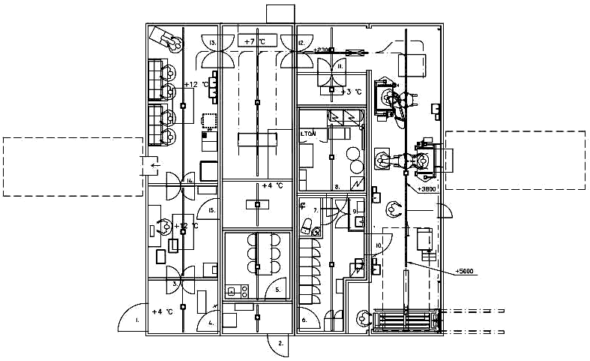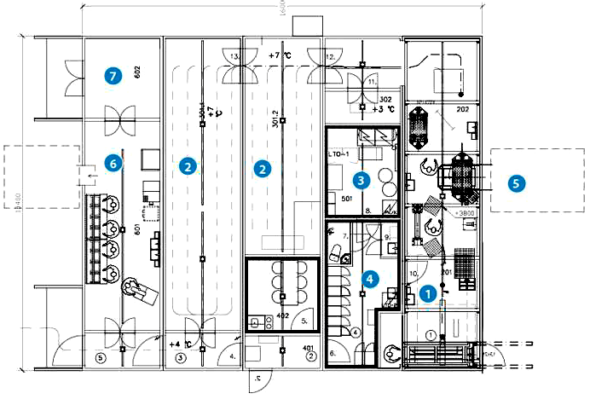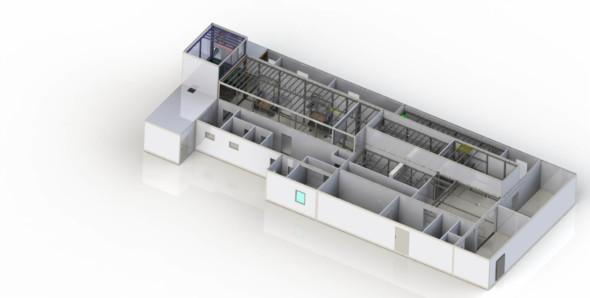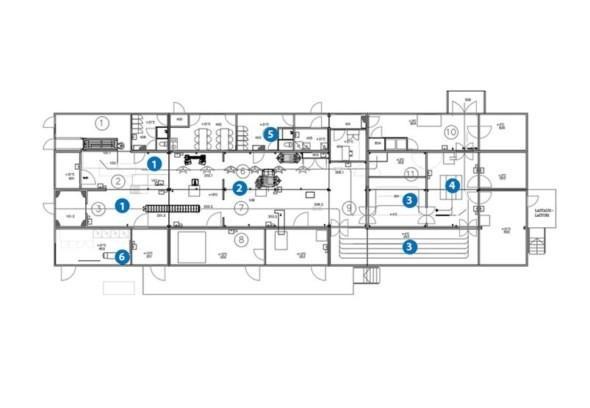 Slaughterhouses for cattle
FINMODULES – MODULAR PRODUCTION FACILITIES FOR FOOD INDUSTRY
Finmodules – modular production facilities is an easy and secure solution, when hygiene, efficiency and durability are required.
Our modular production facilities are suitable for several branches of food processing industry and can be tailor made to meet all needs and requirements due to the fact that they can be modified and expanded.
FINMODULES PRODUCTS MEET THE EU-STANDARDS
Food Act 23 / 2006
General regulation on the hygiene of foodstuffs 852/200/EC
Specific hygiene rules for food of animal origin for food industry operators 853 / 2004 / EC
Specific rules for the organization of official controls on products of animal origin 854 / 2004 / EC
Product certificate Eurofins N:o EUFI29-20001928C
Kometos complies in its activities with the ISO 9001:2015 certified quality system.
The basic element of modular facilities is extruded polystyrene insulated sandwich-elements, which is a hygienic and high load resistant construction approved by the food processing industry.
ST-Sandwich element
Food grade approved
Rigid and strong
Withstands and insulates great variations in temperature (+50 ºC / -50 ºC)
ARGUMENTS IN FAVOR
Long-term (over 30 years) experience in manufacturing modular facilities for food industry
Hygienic solutions
Time-proof, durable, wear-resistant materials
Project competence
Reliable partners, both in Finland and abroad
Turn-key deliveries
Design
Manufacturing
Process equipment
Building systems (HVAC-KS)
Installation and commissioning
Training, including building system and process training
Documentation
After-sales services
REFERENCES:
Slaughterhouses (cattle / pig / sheep / reindeer)
Mobile slaughterhouses
Meat processing facilities
Fish processing facilities
Vegetable and berry processing facilities
KOMETOS EASY MODULAR SOLUTION:
Prior to delivery, Kometos tests the production facility at the factory. In addition, the customer's personnel gets a training, that provides guidance on special technology, operation and maintenance
Select model
Product number
1001020503
TECHNICAL INFORMATION
| | |
| --- | --- |
| Capacity | 16 – 20 cattle / day (8 h) |
| Number of modules | 3 pcs |
| Size approx. | 126 m² |
FM-SINA-N5.3
Technical information
| | |
| --- | --- |
| Capacity | 16 – 20 cattle / day (8 h) |
| Live weight | 700 kg |
| Cooling | as 1/4 -carcasses |
External connections
| | |
| --- | --- |
| Electricity | 400 V, 50 Hz, 125 A |
| Water | 50 – 100 l / min, 4 bar, 2" |
| Waste water | ø 110 mm |
| | |
| --- | --- |
| Number of modules | 3 pcs |
| Size approx. | 126 m2 |
Slaughtering units:
Slaughtering premises
Cooling of carcasses
Technical room
Staff room
Options: Waste material premises
Product number
1001020504
TECHNICAL INFORMATION
| | |
| --- | --- |
| Capacity | 16 – 20 cattle / day (8 h) |
| Number of modules | 4 pcs |
| Size approx. | 168 m² |
FM-SINA-N5.4
Technical information
| | |
| --- | --- |
| Capacity | 16 – 20 cattle / day (8 h) |
| Live weight | 700 kg |
| Cooling | as 1/4 -carcasses |
External connections
| | |
| --- | --- |
| Electricity | 400 V, 50 Hz, 125 A |
| Water | 50 – 100 l / min, 4 bar, 2" |
| Waste water | ø 110 mm |
| | |
| --- | --- |
| Number of modules | 4 pcs |
| Size approx. | 168 m2 |
Slaughtering units:
Slaughtering premises
Cooling of carcasses
Technical room
Staff room
By-product premises
Cutting premise
Packing premise
Warehouse for packaged products
Product number
1001020505
TECHNICAL INFORMATION
| | |
| --- | --- |
| Capacity | 18 – 20 cattle / day (8 h) |
| Number of modules | 5 pcs |
| Size approx. | 210 m² |
FM-SINA-N5.5
Technical information
| | |
| --- | --- |
| Capacity | 18 – 20 cattle / day (8 h) |
| Live weight | 700 kg |
| Cooling | as 1/4 -carcasses |
External connections
| | |
| --- | --- |
| Electricity | 400 V, 50 Hz, 400 A |
| Water | 50 – 100 l / min, 4 bar, 2" |
| Waste water | ø 110 mm |
| | |
| --- | --- |
| Number of modules | 5 pcs |
| Size approx. | 210 m2 |
Slaughtering units:
Slaughtering premises
Cooling of carcasses
Technical room
Staff room
By-product premises
Cutting premise
Packing premise
Warehouse for packaged products
Product number
1001020709
TECHNICAL INFORMATION
| | |
| --- | --- |
| Capacity | 10 – 15 cattle / day (8 h) or 40 – 50 sheep / day (8 h) |
| Number of modules | 9 pcs |
| Size approx. | 480 m² |
FM-SINA-NL7/1.9
Technical information
Cattle
| | |
| --- | --- |
| Capacity | 10 – 15 cattle / day (8 h) |
| Live weight | 700 kg |
| Cooling | as ½ -carcasses |
Sheep
| | |
| --- | --- |
| Capacity | 40 – 50 sheep / day (8 h) |
| Carcass weight | 25 kg |
| Cooling | as 1/1 -carcasses |
External connections
| | |
| --- | --- |
| Electricity | 400 V, 50 Hz, 400 A |
| Water | 70 – 100 l / min, 4 bar, 2" |
| Waste water | ø 160 mm |
| | |
| --- | --- |
| Number of modules | 9 pcs |
| Size approx. | 480 m2 |
Slaughtering units
Stunning-, bleeding and technical premises
By-product premises
Slaughtering premises
Staff rooms
Cooling of carcasses
Cutting premise
Packing premise
Warehouse for packaged products
Logistic premise
Product number
1001022014
TECHNICAL INFORMATION
| | |
| --- | --- |
| Capacity | 16 – 20 cattle / day (8 h) or 150 – 170 sheep / day (8 h) |
| Number of modules | 13 pcs |
| Size approx. | 506 m² |
FM-SINA-NL20/5.14
Technical information
Cattle
| | |
| --- | --- |
| Capacity | 16 – 20 cattle / day (8 h) |
| Live weight | 700 kg |
| Cooling | as ½ -carcasses |
Sheep
| | |
| --- | --- |
| Capacity | 150 – 170 sheep / day (8 h) |
| Carcass weight | 35 kg |
| Cooling | as 1/1 -carcasses |
External connections
| | |
| --- | --- |
| Electricity | 400 V, 50 Hz, 480 A |
| Water | 70 – 100 l / min, 4 bar, 2" |
| Waste water | ø 110 mm |
| | |
| --- | --- |
| Number of modules | 13 pcs |
| Size approx. | 506 m2 |
Slaughtering units
Stunning-, bleeding and technical premises
By-product premises
Slaughtering premises
Staff rooms
Cooling of carcasses
Cutting premise
Packing premise
Warehouse for packaged products
Logistic premise
Want to know more? Download a brochure or contact us