Automation of dosing processes increases efficiency and improves product quality in the food industry
The ready-made portions of artisanal chicken with vegetables and mashed potatoes, available in corner shops' freezers for busy people on their lunch breaks, have been prepared with extreme precision in commercial kitchens. This level of precision is achieved through the use of high-quality technology, robotics, and careful planning.
The convenience food industry is experiencing an annual growth rate of 10% both in Finland and globally. Product development has accelerated to meet the rising demand.
Kometos offers dosing solutions for the food industry, specifically designed for the versatile transfer and dosing of foodstuffs in food production plants and commercial kitchens within the food and convenience product sector.
The Finntray product range includes dosing units and complete dosing lines that process various solid and bulk materials, as well as liquid components.
Automation of the dosing process brings efficiency
In commercial kitchens, optimal space utilization is crucial. Kometos' dosing units for the food industry are designed to suit kitchens of various sizes, providing tailored solutions while prioritizing workplace safety.
At Kometos, dosing process automation is approached with a personalized solution for each client and component. In addition to our standard products, thanks to our in-house design and manufacturing, we can also provide tailored dosing lines to meet clients' specific needs.
The automation options range from automating sub-processes or individual functions to planning the entire production plant layout, considering space requirements and the dosing process of the food industry. The capacity of the dosing process depends on factors such as the device, product, and amount being dosed.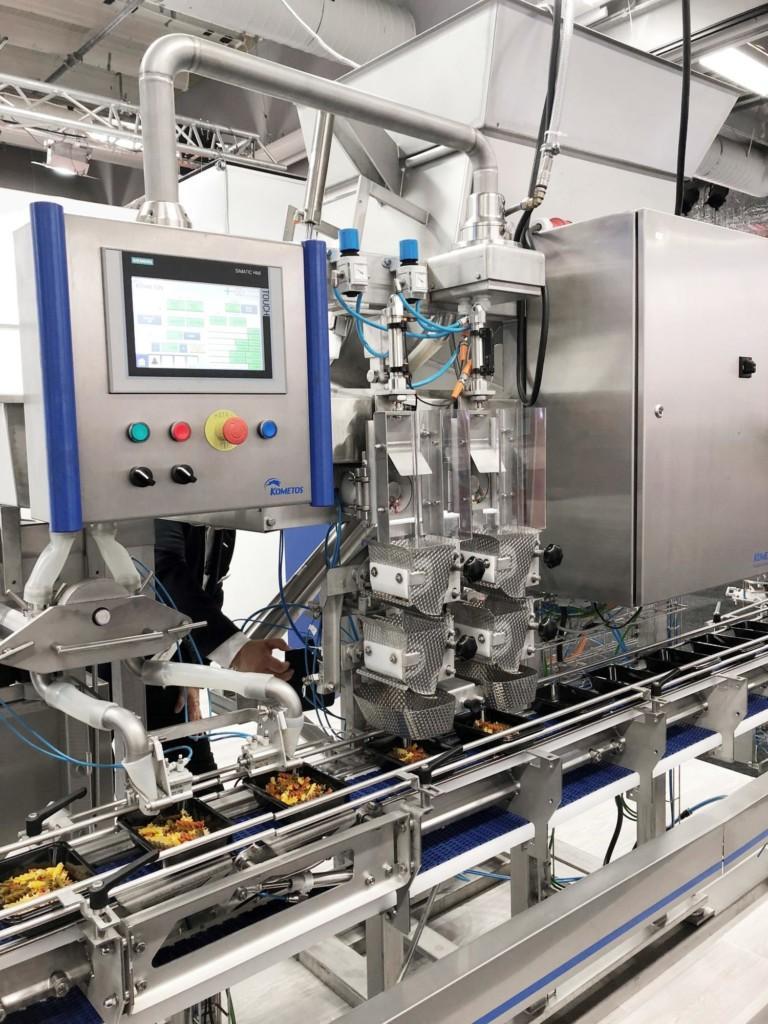 It's also possible to start planning the automation of dosing solutions from a sub-assembly, and make a transition towards a fully automated line, as needed. Mechanically automating the most monotonous manual dosing steps frees up the workforce for more demanding tasks.
Kometos Nestan dosing unit in production. There are 15 different standard products available for dosing automation, including tray unstacking units, component and solid dispensers, liquid dispensers, and conveyor solutions. Tray closing devices for lines are provided by our partner.
Speed and accuracy are key in the dosing of ready meals
Speed and accuracy are paramount in the food industry's dosing process. At Kometos, we've been continuously developing and upgrading our dosing process solutions, introducing various pump solutions, component dispensers, and solid dosing variations.
To determine the best dosing solution for our clients, we conducts tests at our premises using the client's own food components. Tuomas Paloviita, Product Manager at Kometos, stresses the importance of testing:
By testing we can ensure the most suitable solutions for our clients. Clients can either monitor the test in person or receive recorded videos.
Robotics ensures uniform quality and brings versatility to the dosing process
Collaborative robotics brings about uniform quality and versatility to the dosing process, and comes in handy also in cases where operations need to be changed quickly. For example, seasonal products require quick adaptability of dispensers.
– Nowadays the lifecycle of a product can be very short, so it's important to be able to program the dosing units to new functions. When products handled on the line change frequently, the technical solutions require versatility to allow efficient use of the dosing unit, Paloviita continues.
Automation is also driven by the global labor shortage. Robotics upholds uniform quality in the dosing process while significantly improving work ergonomics, especially regarding repetitive movements. This allows employees to focus on more diverse and demanding tasks: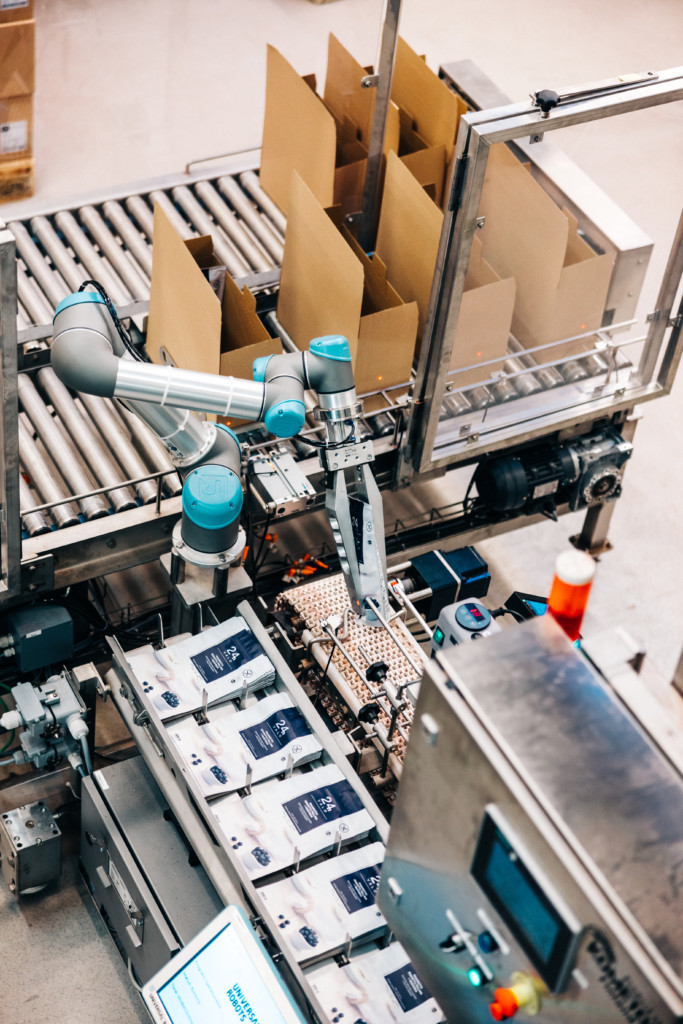 The simplest tasks, such as placing a lasagne sheet in a tray, are easier to handle automatically. This allows employees to focus on more diverse and demanding tasks that cannot be performed by robotics.
Continuous product development and energy efficiency improvements
Improving the energy efficiency of the dosing process is an ongoing effort. Product development also focuses on collecting data from different processes.
– By collecting data we can guide dosing processes towards higher efficiency and quality. Kometos achieves this by developing various machined solutions, Paloviita says.
Interested? Learn more about Fintray dosing and tray handling solutions.