Tray handling lines
Finntray tray handling lines for efficient food packaging 
In our selection of tray handling lines, you'll find the right tray handling equipment and packing machines for your product. The Finntray lines include dosing trays and packaging machines designed by Kometos, as well as components provided by our industry-leading partners, such as Tecnovac tray closing machines. Get the full tray handling system or only choose the parts you need.
👇 Learn more about our models and tray handling equipment in the drop-down selector below and download a product card for specific product below the technical information.
Or watch our product videos:

Efficient food tray handling minimizes waste and losses

Grow and customize the packing line as your capacity grows

30+ years of experience in dosing and food packing
Why choose Finntray tray handling systems
Semiautomatic of fully automated packaging line
We'll customize the tray handling system to fit your needs. The line can be either fully mechanized with automatic packaging machines and dosing units. Or if you want, integrate manual workstations in the line.
Tray handling lines that grow with your production
When your production and capacity grow, the tray handling system grows along. We can add and integrate new units and machinery for added capacity or new seasonal products.
Meets the strict hygiene standards of the food industry
All our tray handling systems and lines meet the strictest quality and hygiene requirements set for the food industry. To maintain good hygiene, all our dosing lines and tray packing machines are easy to clean.
Sign up for a demo – we'll test your product at our facility
Would you like to see how our dosing and packing line works for your product?
Deliver us the product you'd like to test and we'll run it through our dosing and packaging machinery.
Dosing and packing lines customized for your unique needs
The Finntray tray handling line is a flexible food packaging solution for both fresh and ready meals. You can choose a fully automatic packaging line, or if you need, integrate manual workstations into the line. We can equip the manual workstations with scales to determine the exact weight of the product – and minimize losses and food waste. 
The final weight is adjusted by adding sauce with a Finntray sauce dispenser. If needed, other components, such as seasoning, spices, or cheese, can be dispensed to the trays.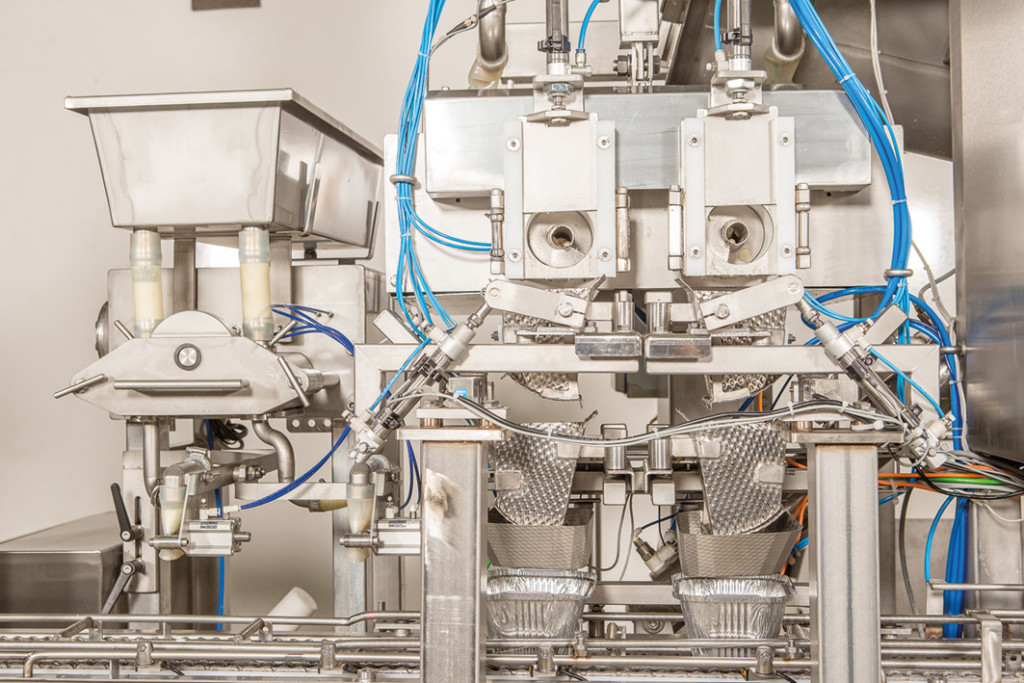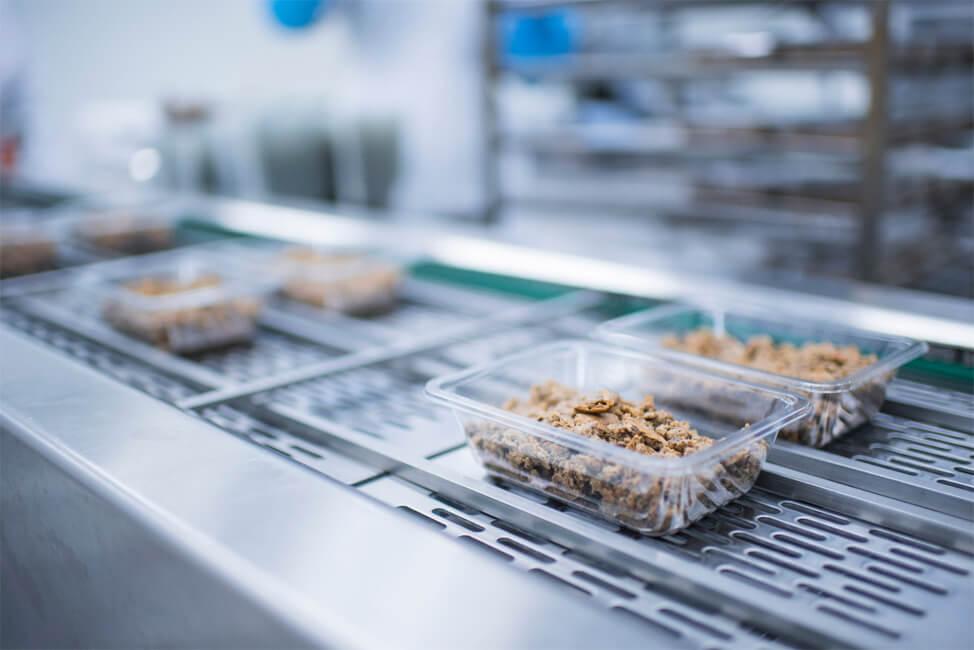 How the ​​ready meal tray handling line works
The Finntray tray packaging line for ready meals is suitable for a variety of products, including rice, pasta, carrot, potato, meat, fish, and seafood as well as liquid components – all ingredients needed to make a ready meal. Our dosing and packing lines consist of weight-based and volume-based solid and liquid dispensers.
The dosing line integrates into tray handling equipment and tray closing machines to create the final packaged meal. The machinery is suitable for packing meals in trays of different sizes and shapes. We also offer adjustable denesters for several tray sizes.
In need of more spezialized units?
Make the line your own and customize it by integrating, for example, check weighers, metal detectors, x-ray equipment, or packing robots. Whatever units or parts you need, we deliver the complete solution. And if your needs change, we can easily change parts of the line. 
Extensive maintenance for all Finntray lines
We offer extensive maintenance services to all our tray handling lines. Effective maintenance minimizes stops and pauses in your production. We also keep critical spare parts in stock. Get help and service fast; our maintenance arrives the next day, at the latest, at your facility. 
What our customers say about us
If there was one thing to highlight in particular, it would be the creativity of Kometos – they came up with the right solution to our challenge.
– Ari Viitala, Production Manager, Linseed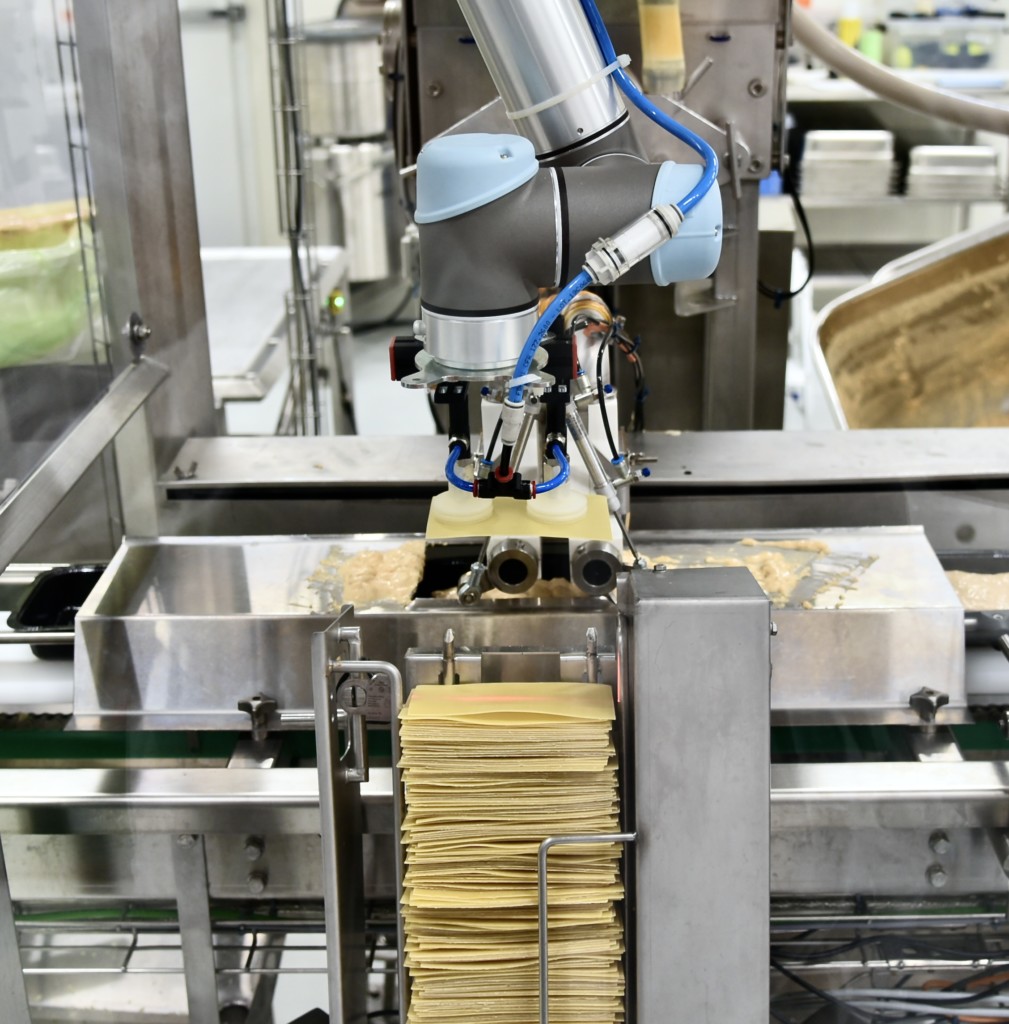 Customer case: Lasagne dosing and packing line
We've developed a ready meal tray filling equipment and line specifically for lasagne products. The lasagne line consists of a tray dispenser, a trolley dock with mixer and pipe outlet for a pump, a Nestan 2-headed volume-based dispenser, a cobot, a closing and decking machine, a metal detector, conveyors, and a tray sealing device from our partner Tecnovac.
First, the Nestan dispenser doses the sauce in layers with lasagne sheets set by the cobot. The weight is balanced to the desired final weight by adding an adjusted amount of sauce for the last layer. A conveyor transfers the tray to a cheese dispenser if desired.
Next, the tray moves to a sealing machine that closes the tray either with a lid or film. The tray passes through a metal detector. Now the tray moves to a loading area to wait for packing. Finally, after the tray handling line, the final product is transferred to a freezer tunnel and lastly, to cold storage. All done!
Customer case: Bag filling and packing line 
Our bag filling line is a powerful complete solution for dosing and packing powders, liquids, or solid products into bags or pouches. 
In the bag filling line, we employ robotics extensively. This allows us to free up the most monotonous tasks with poor ergonomics to cobots. First, a cobot picks up the pouch with suction cups and opens it. Based on either weight or units, the desired amount of product is dispensed into the pouch. Next, the pouch moves to the checking scale where its weight is checked. If the weight doesn't meet the set criteria, the pouch is rejected.
Finally, the pouch is closed and transferred to packing. The line is connected to a box conveyor where the pouches are packed into cardboard boxes either by staff or a cobot. We can also install a cobot to transfer the boxes to shipping or storage.
What does the process look like in practice? Watch our video.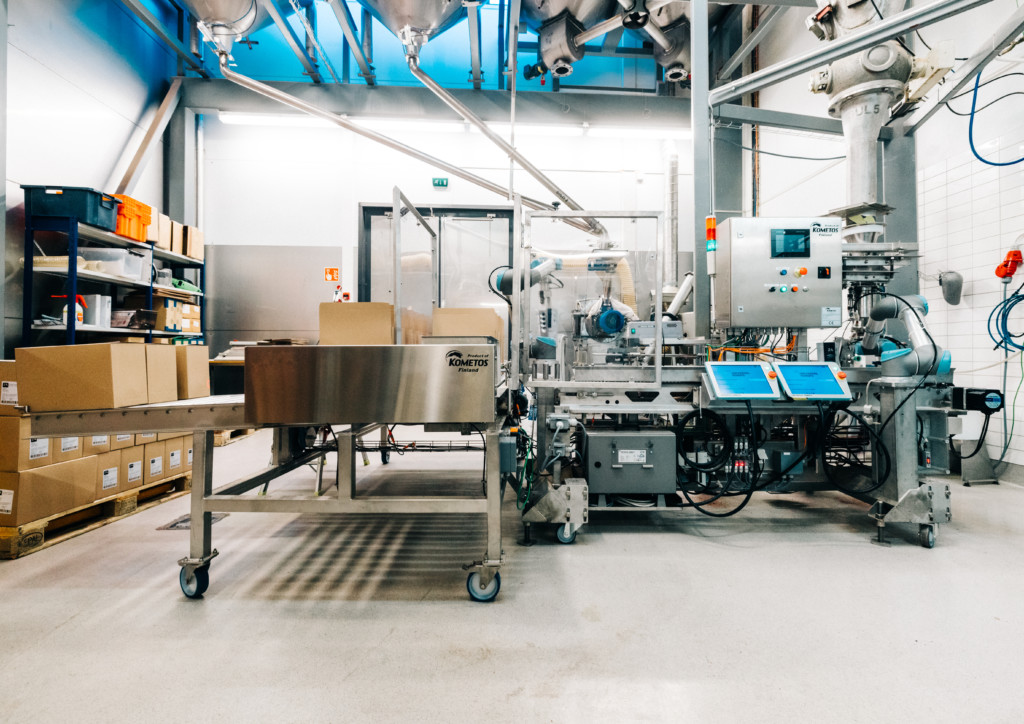 Frequently asked about food tray handling and packing
What kind of trays can the Finntray packing machine dose and pack food into?
The Finntray tray handling equipment can pack food into aluminum, cardboard, or plastic trays and boxes. The machinery is suitable for packing food into trays of different sizes and shapes. Our product line also includes adjustable denesters for several different tray sizes.
Can you integrate manual workstations into the tray packaging line for ready meals?
Yes, we can integrate manual workstations into the line for the packaging of ready meals. You can improve efficiency by automating the more monotonous manual steps, and this way free up the workforce for the more demanding tasks in the packing line. 
We can always customize the tray handling line for your needs. Add machines and units, such as dispensers, tray closing machines, or a metal detector. And of course, if needed, add manual workstations.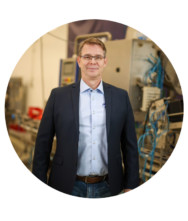 Sales
Risto Salo
Northern Finland, the Baltics, Belgia, the Netherlands, UK, Ireland, USA, Canada, Africa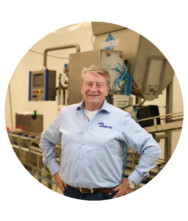 Sales
Raimo Niemi
Southern Finland, Scandinavia, Germany, Austria, Switzerland, Slovakia, The Czech Republic