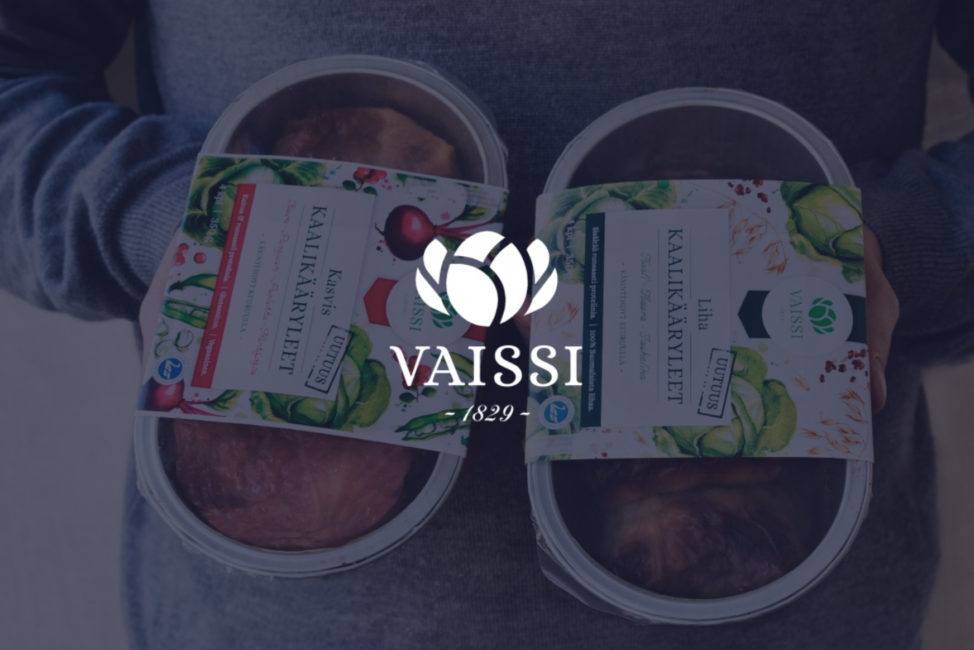 Vaissi confident with the traditional Finnish delicacy
The Vaissi factory in Haapamäki yields 12 million juicy cabbage rolls per year. A cabbage roll is partially machine-processed and partially handmade, with the most critical and precise stage being the cooking of the leaf, which determines, if the leaf can be rolled or not.
Until now, Vaissi had built its own freezing tunnels. In the past year, however, freezing capacity had to be abruptly increased due to production growth. Kometos quickly helped them out.
The freezing tunnel FF-5000 has done an excellent job.
"We already knew about Kometos from trade fairs. A newspaper article gave me more information, which coincided with our need for increased freezing capacity. This led to the procurement," tells Juho Vaissi.
Vaissi vegan and meat cabbage roll factory in Haapamäki is the largest in the Nordic countries. Besides the traditional cabbage rolls with meat filling, the factory has introduced rolls with fava beans and oat filling, following the food trends. The factory produces fresh and frozen cabbage rolls with vegetable and meat filling for the food industry, using various recipes. In addition, Vaissi produces meatloaves and cabbage casseroles as well as pre-cooked and frozen cabbage leaves and grated cabbage for own needs and for other food business operators.
Work steps with cabbage rolls
Vaissi cabbage leaf factory processes 2.3 million kg of cabbage each year. Cabbage is sown in late April or early May to seedbeds, where they are grown for a month and then transplanted to a field.
In the leaf factory the fresh cabbage is sorted, pre-cooked and cut with machines to suitable sizes. Then the leaves are frozen into 10 kg blocks. The cabbage roll factory, which produces 50,000 cabbage rolls in one day, prepares the bulk material, defrosts the leaves and rolls the cabbage rolls ready for delivery.
"Despite all the machines, leaves are still rolled by hand and it takes 4-5 seconds per roll," Vaissi tells.
Competitive edge from leaf cooking method
The main difference between a home-made and an industrially manufactured cabbage roll is in the leaf cooking method. At home, the leaf is boiled in water. At Vaissi it is steamed, making it silky soft and nicely pliable – without the pungent odour.
If the leaf is not properly cooked, rolling the leaf will take more time. Efficient cooking with good quality is Vaissi's competitive edge against imported products. Another secret of Vaissi is their range of select cabbage varieties, which have properties and tastes most suitable for the products.
"There are almost a thousand different varieties of head cabbage, which are all very different," knows Juho Vaissi.
The majority of Vaissi's cabbage rolls are consumed in Finland. Cabbage rolls are also exported to Sweden, cabbage leaves to Germany and Estonia.
Read more about Finncold products here!