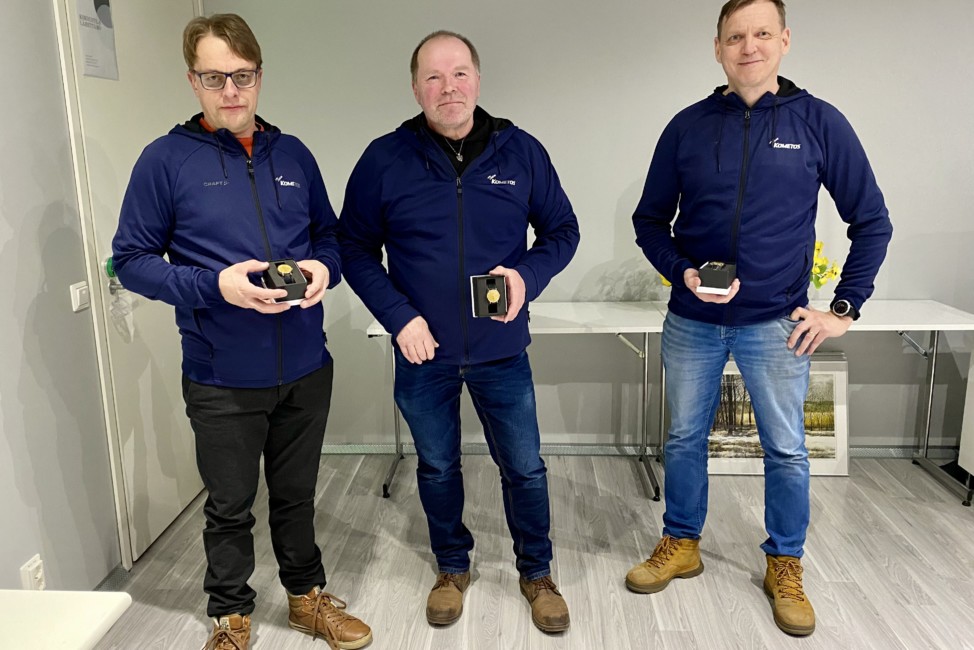 Three Kometos employees were recognised for their ten years of service with the company
It is no longer common in today's work life to have a long tenure with the same employer, but at Kometos, we had the privilege of celebrating three professionals who have been working for our company for ten years: Seppo Juntti, our Sales Manager responsible for maintenance and spare parts; and Jari Köykkä and Jani Heikkilä, technicians who have traveled the world during our global installations. At our Christmas party Kometos presented these three employees with gifts as a gesture of appreciation for their dedication and hard work.
Careers began with responding to an ad and applying based on a colleague's recommendation
Ten years ago, on a Saturday morning, our Sales Manager Seppo was reading the newspaper when he saw an interesting job advertisement from a local food technology company. A month later, he started as a Sales Manager responsible for maintenance and spare parts.
"Seppo is always ready for new challenges and doesn't hesitate to make changes. He takes responsibility and works in a way that is required in an organization operating in the regulated food industry," says Kometos CEO Raimo Niemi. Jari and Jani also received high praise: "Jari is an important link in both the manufacturing and installation phases because of his wide expertise. He is also always ready to travel to any corner of the world, and we can be sure that things will be taken care of. Jani is also a multi-talent whose expertise is valuable in almost all our processes."
Both Jari and Jani received a reference from a colleague to apply for a job at Kometos. They mentioned, that the best things at work are the team, which takes care of each other and has a good sense of humor, and the variety of work, which includes installations that take them to places they would not normally go to.
Memorable work experiences from around the world
Among the most memorable experiences in the past ten years for all three of them are the installation trips they have done to the different parts of the world. Jari mentions a trip to Kamchatka Peninsula in the middle of the wilderness: the expectation for our staff was to spend the nights in a yurt and work in basic conditions, but upon arrival, the place turned out to be anything but basic and the installation team was able to stay in newly built cabins with saunas. For Jani, an installation trip to Africa was one of the most memorable experiences.
Seppo also mentions an installation trip to the city of Novgorod five years ago, which turned out to be a positive surprise contrary to his preconceptions. Despite being in a foreign country and speaking a different language, the experienced workers at Kometos felt at home in a strange environment. They bought groceries, but during the coffee break, the Finns were puzzled by the strange color of the tea water. With the help of Google Translate, it turned out that they had not bought a container of spring water from the store, but a container of window cleaner!
Seppo says that what he likes most about his job is that every day is different with its own challenges that need to be solved:
The most educational thing about my job at Kometos has been the fact that even large projects require small details, and every small thing is necessary for the big picture to work."